🚚 Dispatch - within 24 hours after receipt of payment
Regular price
€148,35 EUR
Regular price
Sale price
€148,35 EUR
Unit price
per
Sale
Sold out
🧸 The Double Climbing Pikler Triangle is a multi-purpose climbing toy designed to train the body and movement skills at your kid's own pace. The shape of the triangle promotes climbing and crawling, while its sturdy sides keep the climber safe and secure.
Share
Description

This Little Peak modifiable triangular wooden stairs will be the perfect playground for children, helping to develop movement, dexterity, and balance, as well as bringing joy to being active, crawling, and climbing.
Inspired by the Pikler triangle
The set is recommended for children from the age of 8 months or when the child starts to learn to crawl
Size

The dimensions of the triangle structure depend on the assembled position.
Length of one segment: 52 cm
Maximum height of one triangle: 48 cm
Total width: 70 cm
Spaces between steps (rods): 5 cm
Material: Water-resistant 18 mm birch plywood with UV film coating and edges treated with wax oil.
Rods material: Oiled ash wood bars in natural color.
Designed for up to 60 kg

Dimensions of the slide:
Length x Width 117x40 cm
The total height of the boards is 6 cm
Material: Birch plywood 12 and 15 mm thick
The shade of the color of the slide is random - it is not possible to choose.
Designed for up to 60 kg

Safety Directive 2009/48/EC
How to use

Wooden folding triangle steps are safe for use in the house or yard.
The edges of durable 18mm thick birch plywood and 24mm ash wood rods are treated with oil, thus allowing to create of a playground for children in the yard and protect from soiling, as well as facilitating cleaning.
By changing the shape of the triangle, adjust the level of difficulty to the child's ability.
All "Little Peak" climbing elements are interconnected. By purchasing several triangles or arch elements, it is possible to create as big a playground as you need.
The arch will be one of the integral elements, which will provide the widest opportunities for the use of the structure.
The set can be changed according to your needs, by supplementing it with an arch, an additional staircase segment, or an additional slide with borders.
A playground for children that will help develop dexterity and balance based on Pickler's pedagogy. Playing in the house or in the yard with friends will never get boring.
Can be modified into different shapes, creating new obstacles every time and delighting the child.
The climbing simulator develops the dexterity and strength of the child's arms and legs, and also helps to learn the sense of balance.
"Little Peak" Pickler's Triangle turns training into entertaining games.
What is included

Two little triangles
One slide (if you have chosen a set with a slide)
One extra connection kit
Assembly instruction
Assembly keys
Care guide

Wipe with a damp cloth.
Detergent may be used.

Do not use abrasive cleaners
Shipping

Latvia 1-2 business days

Estonia 1-2 business days

Lithuania 1-2 business days

Finland 2-3 business days

Sweden 2-5 business days

* delivering goods to the Curonian Spit and the Estonian islands, an additional surcharge is applied - 28€.

Poland 2-4 business days

Austria 3-4 business days

Belgium 3-4 business days

Czechia 3-5 business days

Denmark 4-5 business days

Germany 3-5 business days

Luxembourg 3-4 business days

Netherlands 3-4 business days

Slovakia 3-5 business days

Croatia 5-8 business days

France 4-7 business days

Hungary 3-4 business days

Slovenia 3-6 business days

Italy 4-8 business days

Romania 5-7 business days

Spain 5-8 business days

Bulgaria 5-6 business days

Ireland 5-6 business days

Portugal 5-7 business days

Not EU Country

Norway 3-6 business days

Switzerland 4-5 business days

👇

Provided that the shipment is accompanied by all required customs documents.

Non EU TAX

We do not charge tax if you are outside the EU countries.

The buyer is responsible for paying additional costs such as duties, taxes, and customs clearance fees. These charges can vary widely and are often based on the type of item and fees of the destination country.
View full details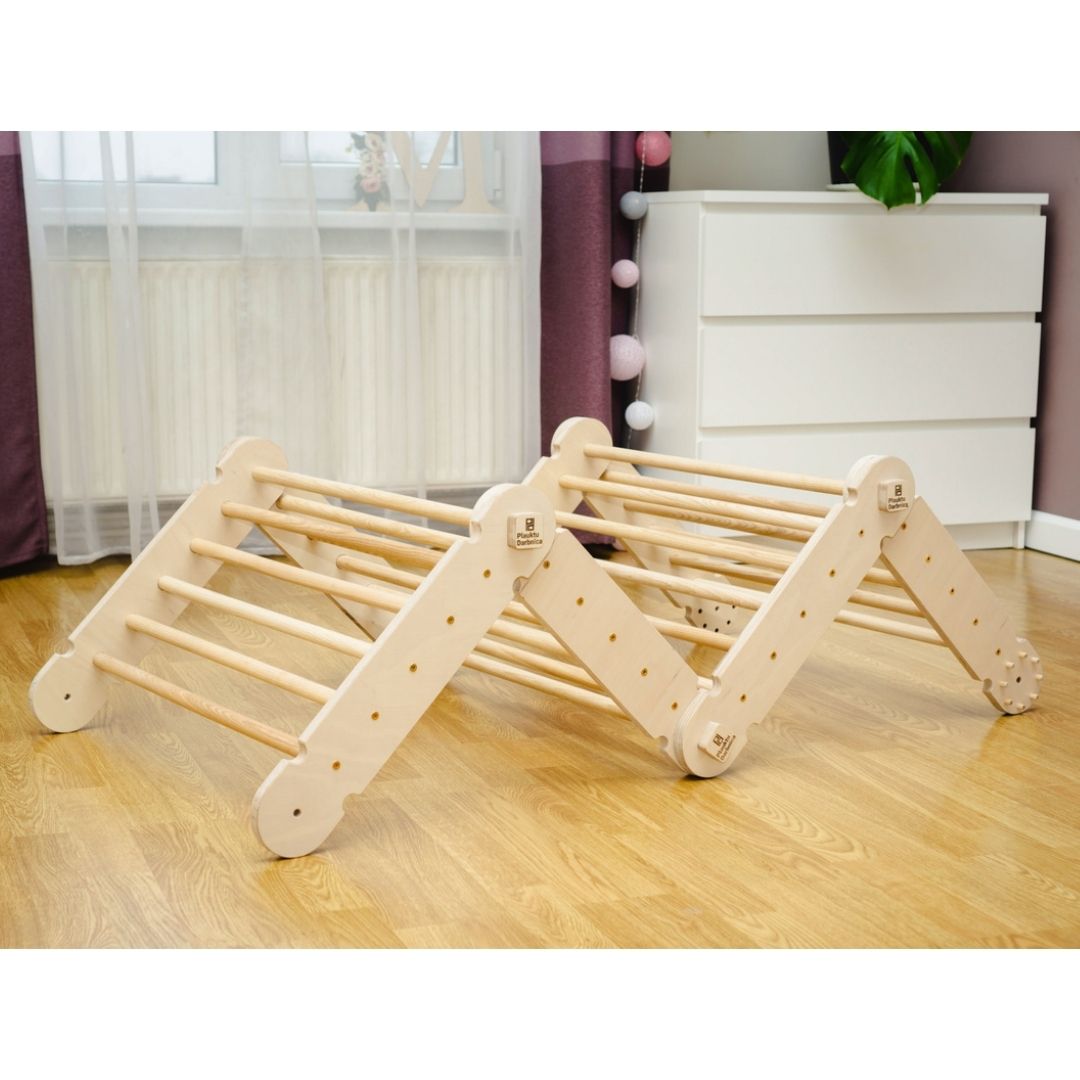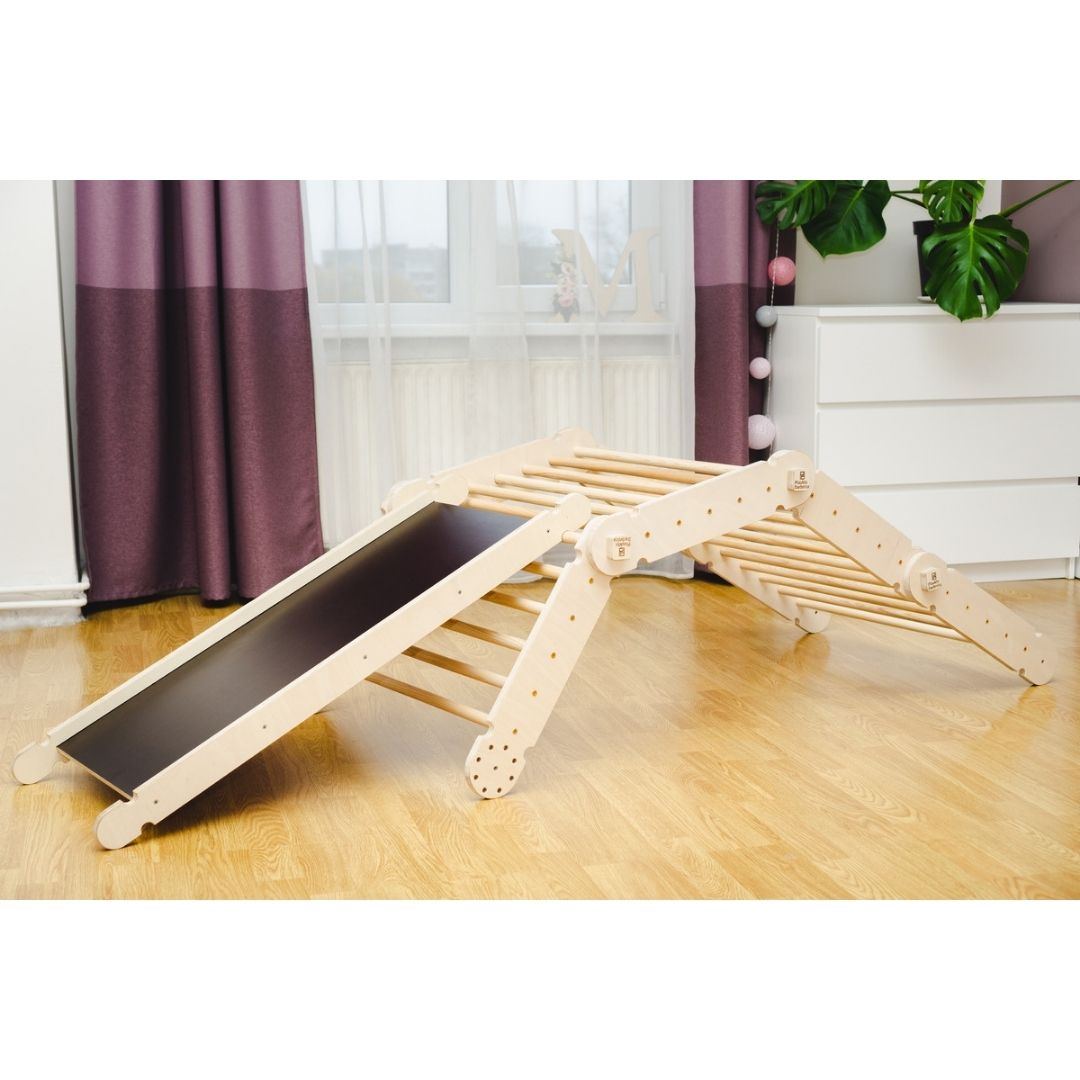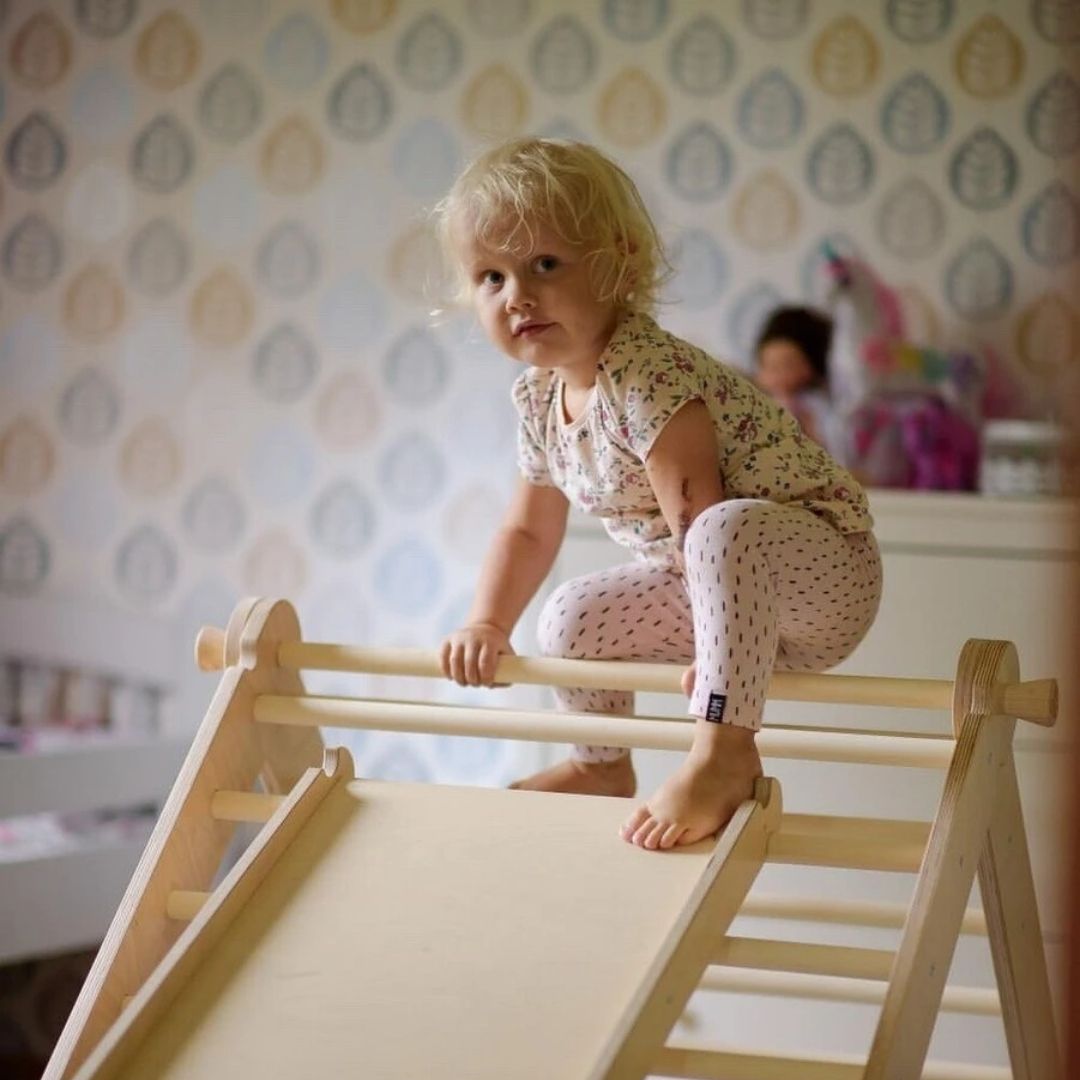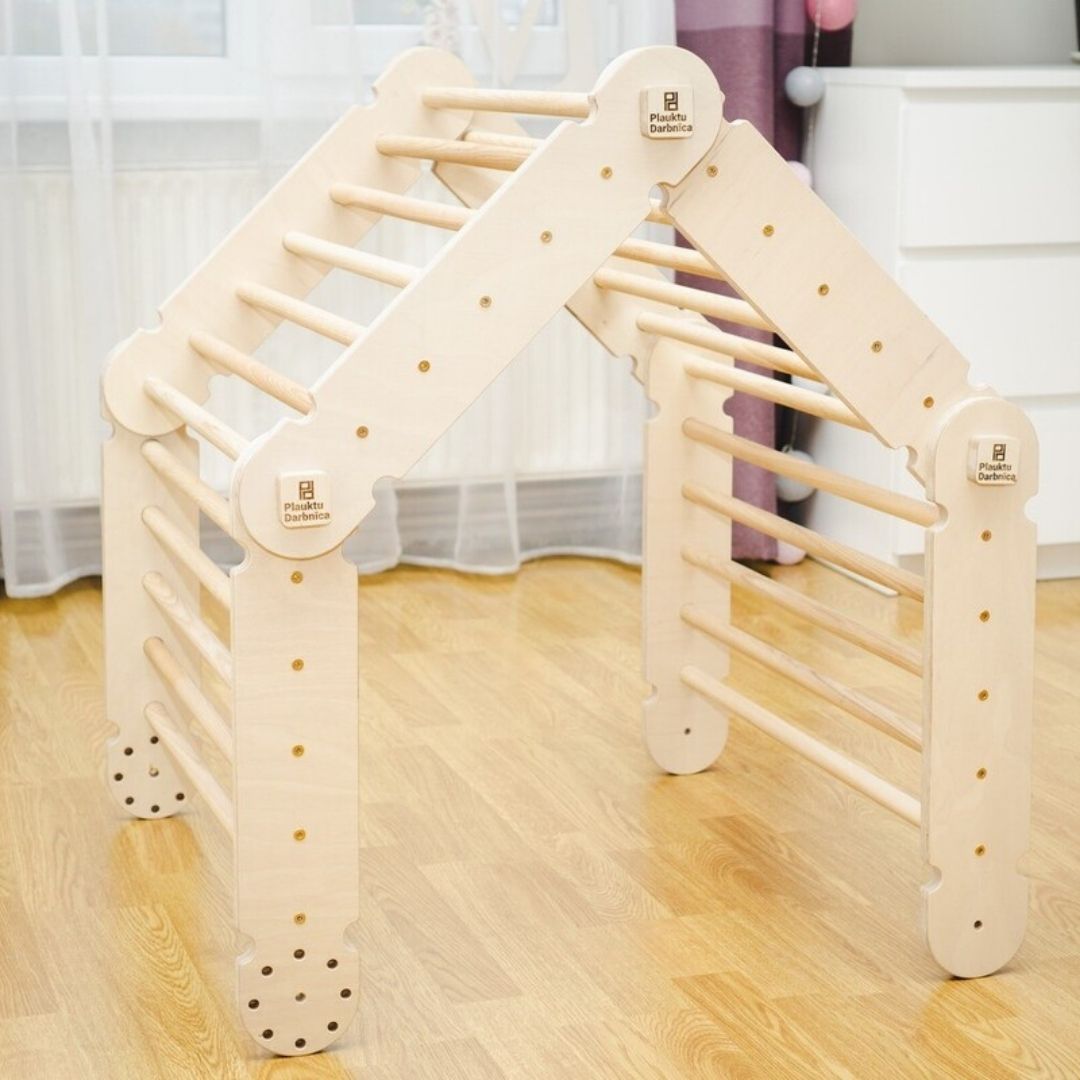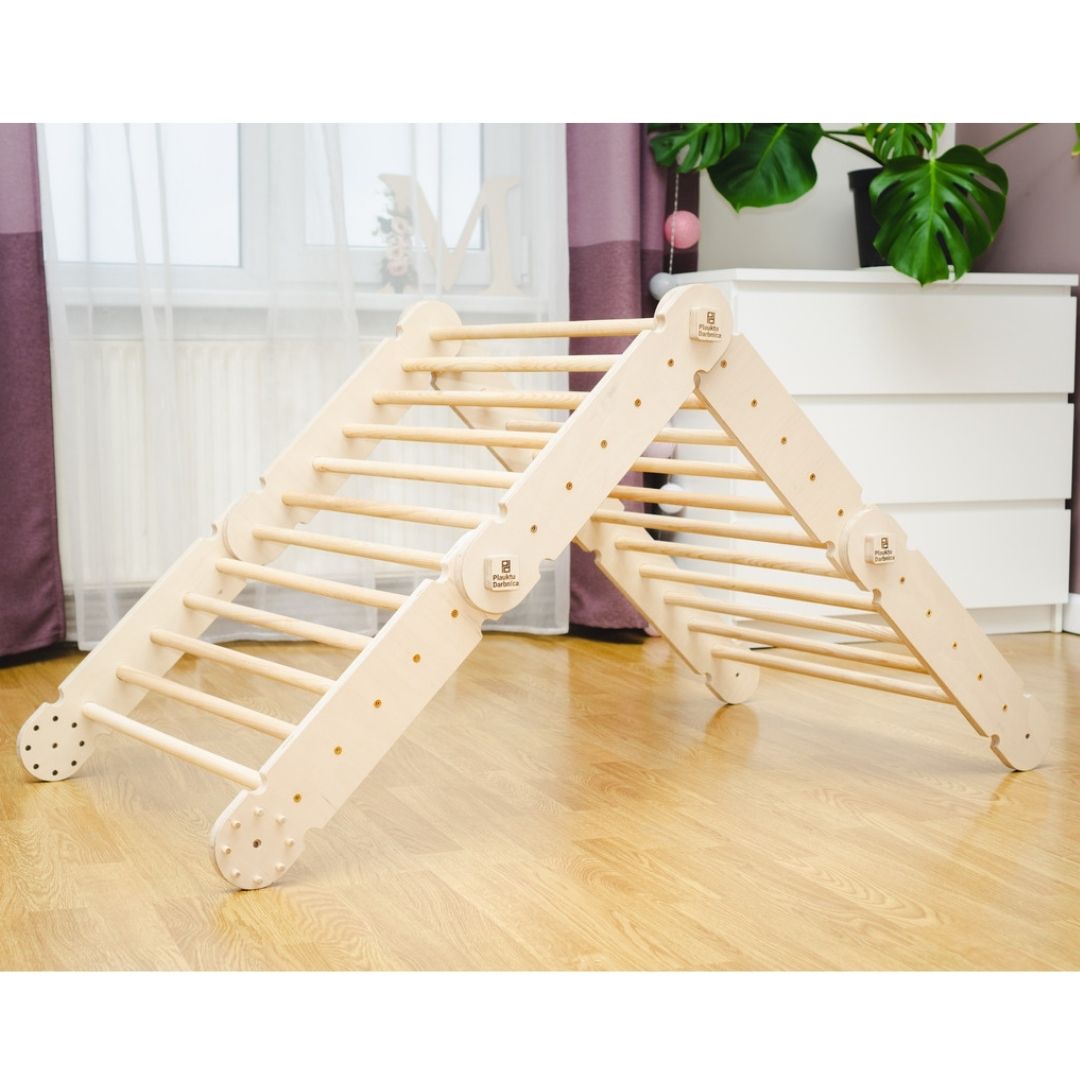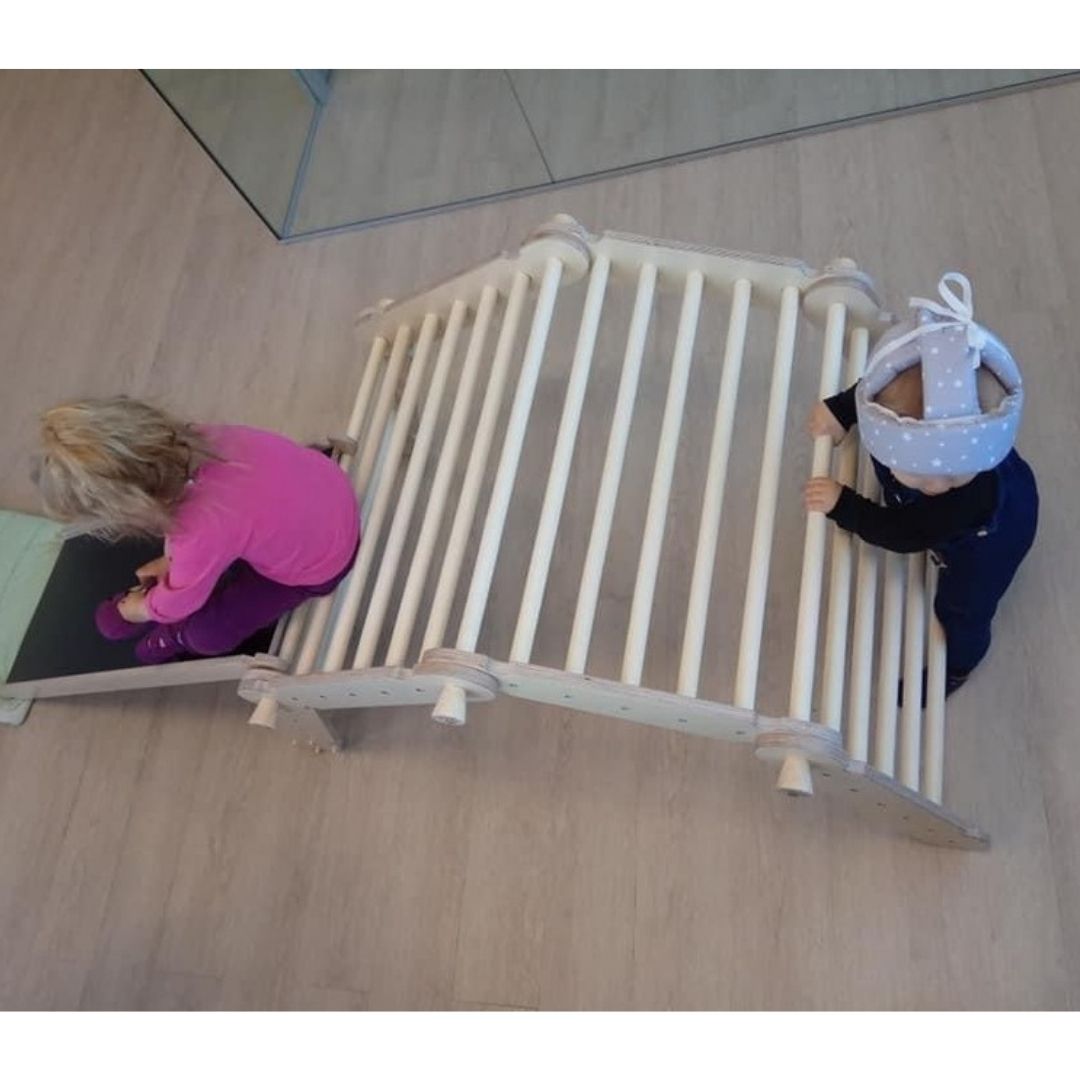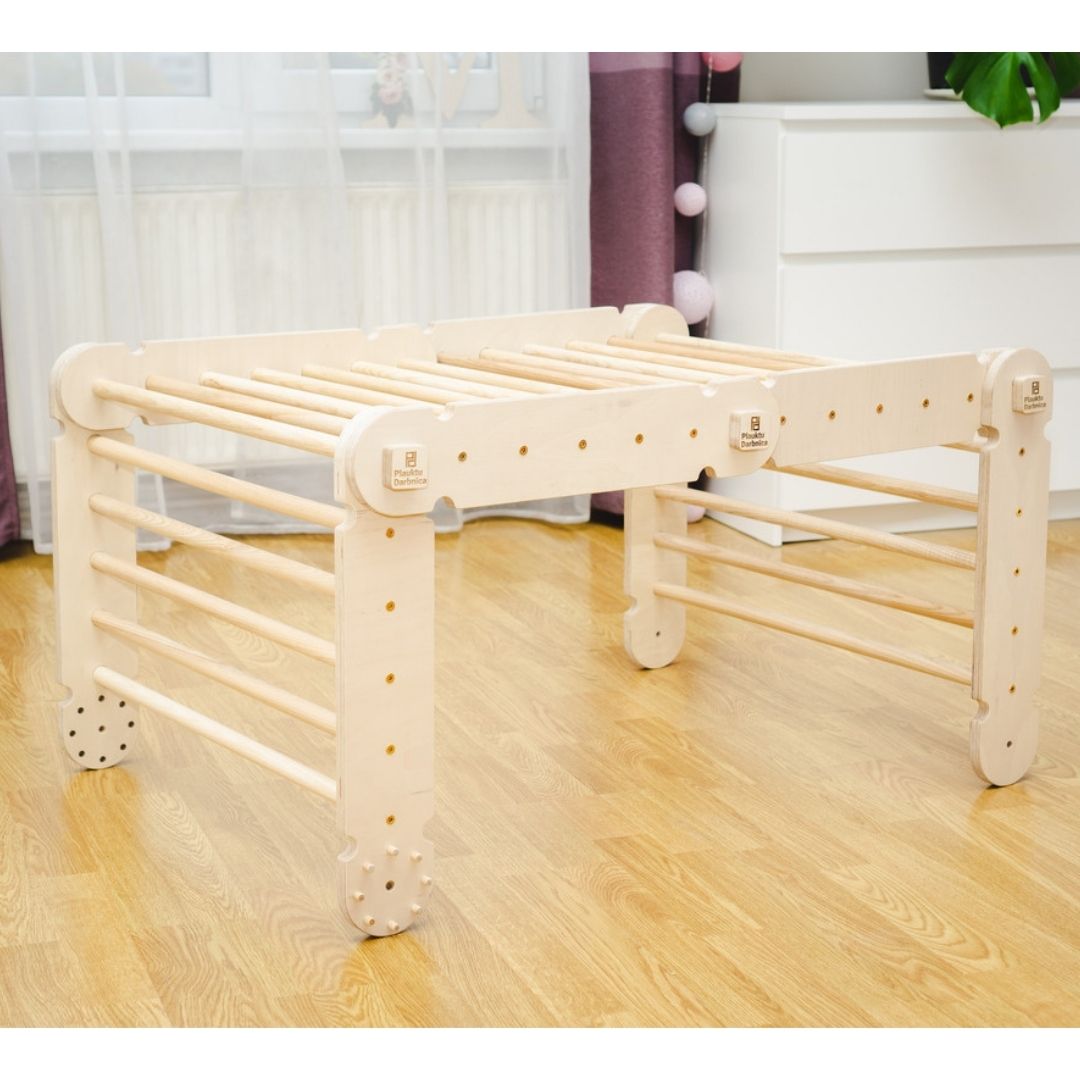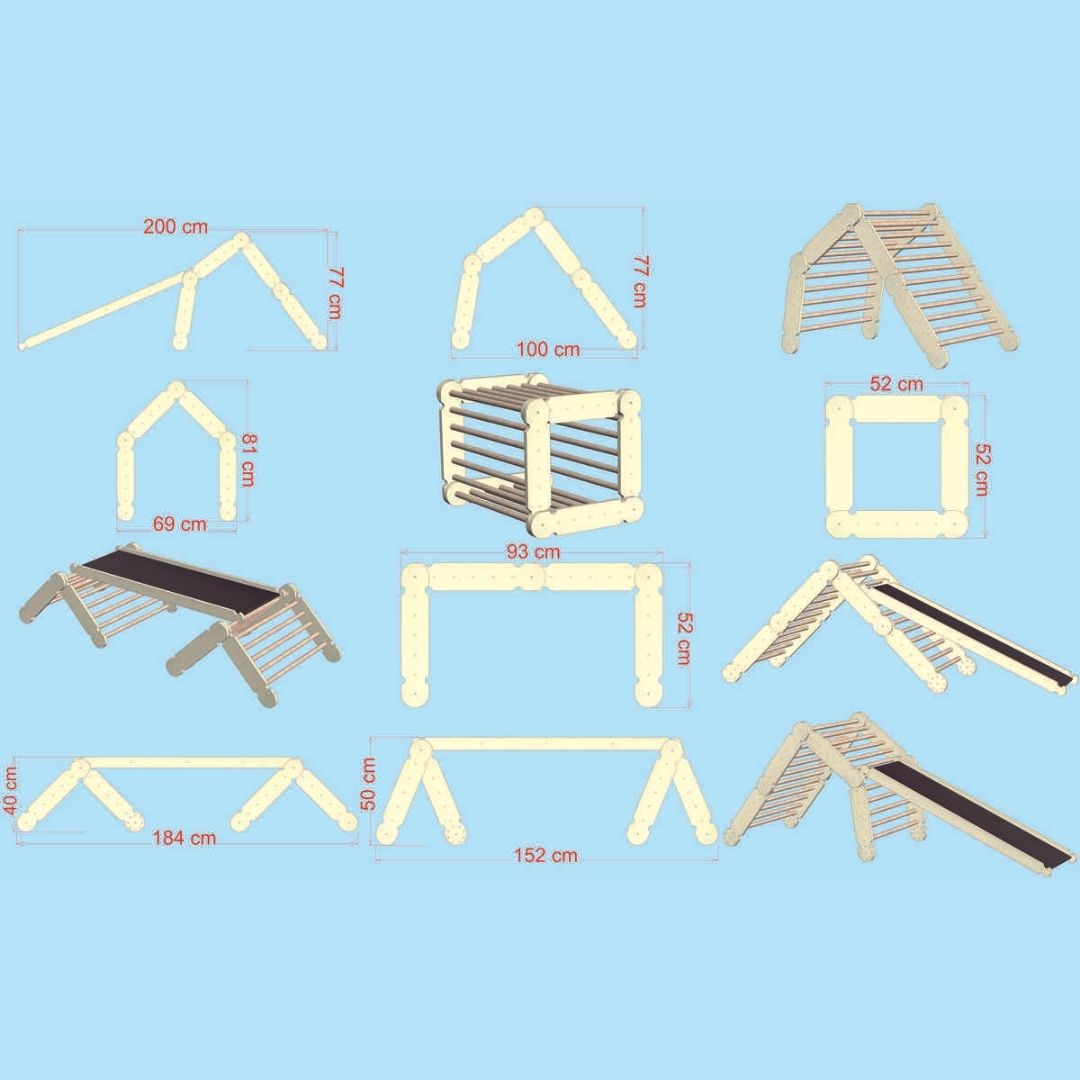 It takes just 30 minutes to set up and your kid will use it for years.

Change the structure of the toy and easily create new possibilities to keep the child's attention

Our Little Peak triangle (Pikler Triangle) adapts to the skill of the child's age and needs

A sturdy and responsibly crafted triangle is made with a sense of safety child as a priority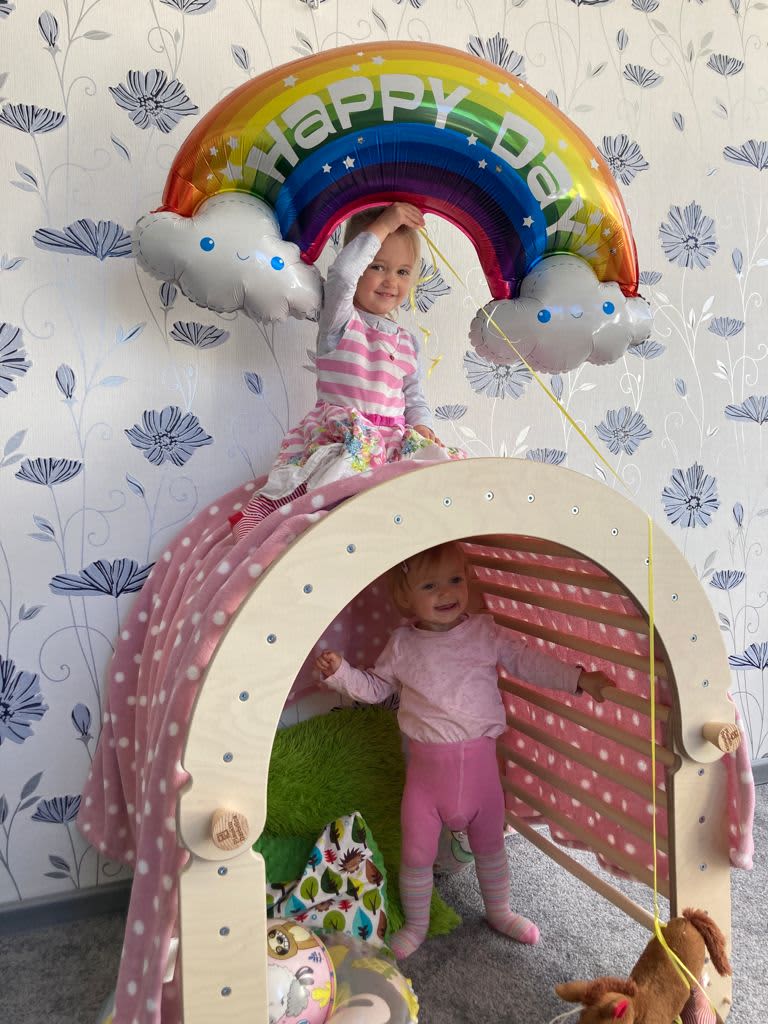 One Toy For Many Years of Joy and Achievements
The TreeSorry Little Peak triangle is designed in a way that lets you adjust the difficulty of the climber, so your child will not get bored with it for up to 7 years old. It takes just 30 minutes to set up, but your child will use it for years!
Endorsed all over
Similar pikers are used in Montessori classrooms all around the world to stimulate children's sense of balance, colors, shapes, tactile sensitivity (soft carpet), proprioception (rigid frame), and kinesthetic awareness.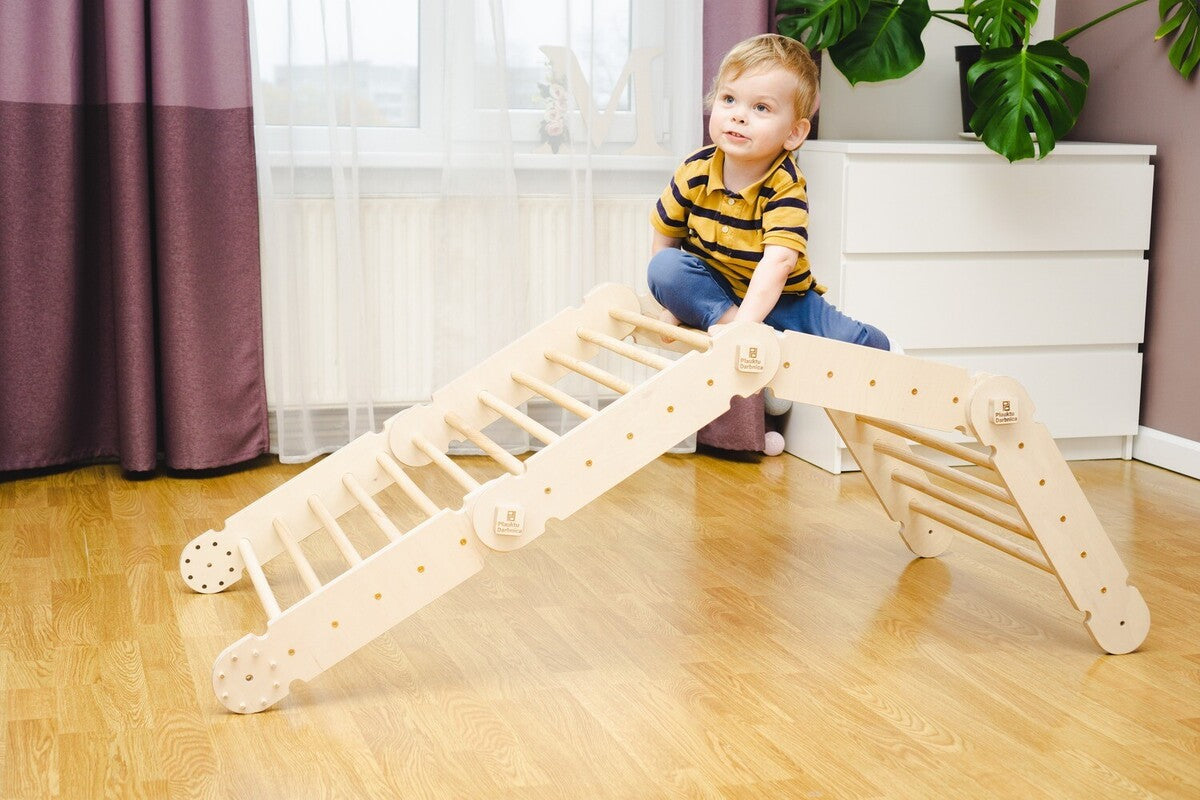 👶 Other scientifically proven benefits
The Pikler triangle toy has been proven to increase awareness of surroundings, generate a sense of adventurous exploration, and provide a boost in the kid's confidence.
🤸‍♂️ Safe and secure toy
Young kids can sit on it side-saddle, lean over the top rail with hands flat down or try to reach out their fingers while holding onto either side - all at their own pace without worrying about falling off.
Just look after the baby and be there during playtime
Thank you!
The son is currently learning to both develop balance and overcome fear. The construction is quick and easy to assemble, and of high quality👍👍👍
Exellent
The packaging was excellent, and the product is truly amazing quality
Great product!!
I am very happy with my ordered product
Great!
Thank you! A good investment into our little one's future!